A SELECTION OF ALTERNATE MOVIE POSTER DESIGNS FOR QUENTIN TARANTINO'S 1ST MOVIE RESERVOIR DOGS
Quentin Tarantino's first movie Reservoir Dogs was my favourite film back in the day, I had 2 different posters on my wall and watched it way too many times.
The movie is pretty simple for designers to create concepts from, you have characters with colour based code names, iconic suits, sun glasses and blood. The majority of designs have colour based themes so we featured a few based on that. We didn't include any with dogs.
We have collected some awesome alternate Reservoir Dogs poster designs and fan art for your viewing pleasure, please do hesitate to submit your own or recommend any illustrations we may have missed out.
Chungkong
Reservoir Dogs was a fairly minimal film so it lends itself pretty well to minimal poster designs. this simple poster is from ChunkKong and you can purchase this bad boy here
Joshua Budich
A beautiful piece of line art illustrations for Reservoir Dogs from joshuabudich.com. I would definitely have this print on my wall and you can get it here.
Tyler Stout
This is an incredibly detailed alternate poster for Reservoir Dogs, I don't know where people get the time for stuff like this. You can check out more work by Tyler Stout on his website.
GREY WOOLF DESIGNS
This would look pretty nice on your wall actually, maybe not my wall because I don't have a wall. Design is by Grey Wolf Designs
Ibraheem Youssef
Ibraheem Youssef is a Designer & Illustrator currently based in Boston and has done posters for all of Quentin Tarantino's movies. Check out more of his work here
Jordan A
Grischa Stanjek
Ultra Minimal Reservoir Dogs poster by designer Grischa Stanjek, Check out more of his work his site.
Unknown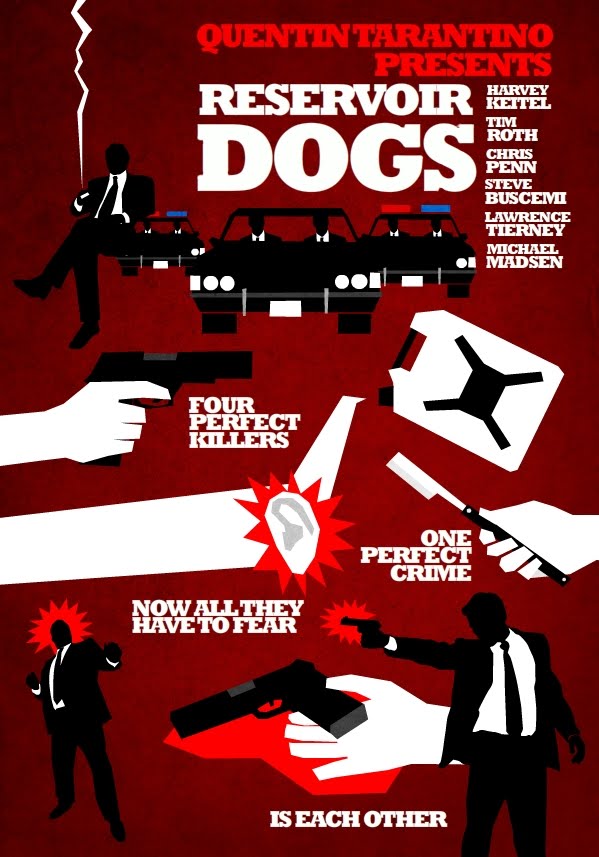 Dan Sherratt
Nice minimal Reservoir Dogs poster by designer Dan Sherratt, check out his Tumblr page for more work here
AJASC
This is pretty damn cool for 17 year old designer Ajasc, more of his work can be seen here
James Fenwick
This is an alternate poster design for Hull's Cult Cinema Sunday from designer James Fenwick, you maybe able to purchase this bad boy here
UNKOWN
MARK WELSER
Mark Welser is a comic book artist based Erie, Pennsylvania. He has designed loads of alternate posters for tons of my favourite films so feel free to check out his Facebook page here.